This past weekend say club members involved in their 1st Nose Clinic.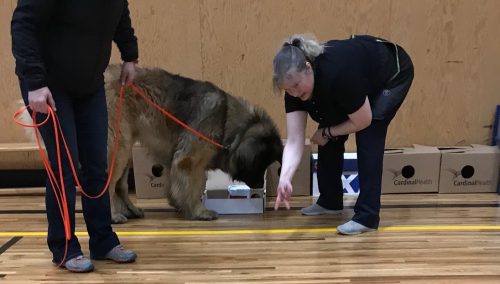 Here is what club president Chris had to say about the weekend.
"Another busy weekend, but once again productive and illuminating!  Carla is a talented teacher, who uses multiple approaches, to insure we 'understand' the concepts, the training, and the goals involved in Nosework.  
Many dogs showed a lot of aptitude, some were even , " lightbulb", moments!  
Lovely to watch, and joyful to be a part of!
Handlers worked hard to not to interfere with the dog, and allow and reward their efforts and successes!  The possibilities of benefit in a wide variety of scenarios, began to become apparent!   Enhancing confidence, motivation, drive, targeting, distance work, Obedience scent work, etc.
It means trusting your dog, believing in their abilities and us learning to read them.  We can also train them to give us an indication of "find", that we are sure not to miss.  We must learn to respect the scent and how to preserve its purity!
Looking foreword to utilizing this new knowledge!"
Some of the posters and information about Education we have held in the past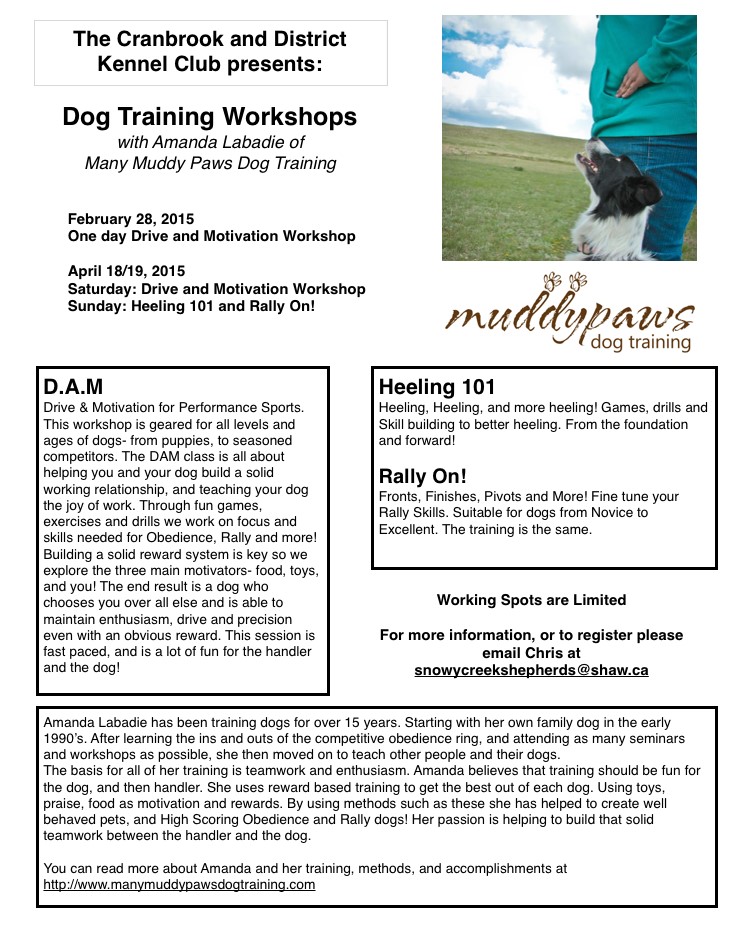 Trainer/Owner Monica Martin, B.Sc., KPA-CTP
Trainer/Owner Monica Martin, B.Sc., KPA-CTP
Monica is a Karen Pryor certified professional dog trainer. Her commitment to safety and fun for dogs and peace of mind for owners means ongoing staff training in dog body language, canine behavior, pack management, and positive reinforcement training methods.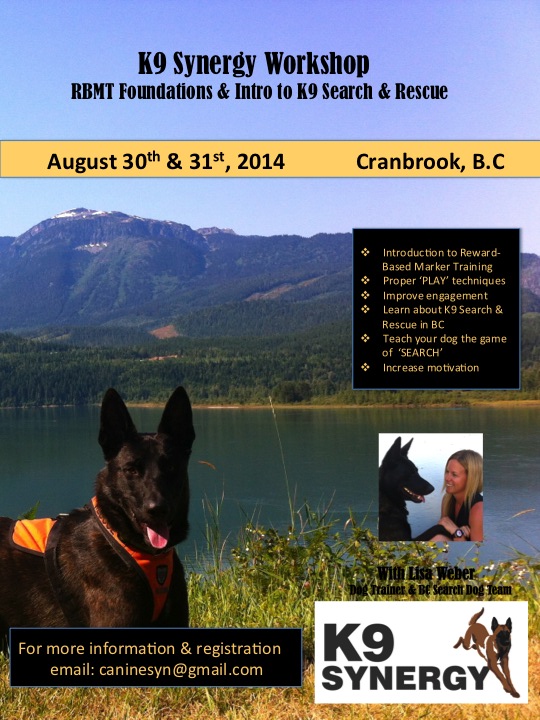 Reward Based- Marker Training.
Presenter Lisa Weber, K9 Synergy, Revelstoke
Visit with Lisa on her blog, to learn more about her:
http://k9synergy.wordpress.com
Possible 2 day workshop in the Cranbrook/Kimberley area.
Saturday: the principles of Reward based Marker Training. Increasing motivation and proper play techniques.  The foundation for any dog work you are interested in.
Sunday:  Search!!
Participants may do both days or one only, but the biggest gains will be made if you do both.
August 30/31 2014, Time 0830 to 4.00pm each day.
Place, "Muskrat Ranch" at Ta Ta Creek, 20 min from Cranbrook.
Cost, $75 per day for dog and handler teams
All participants are welcome to camp over.  Pot luck supper for Saturday night.  Come and enjoy some quality time with your dogs, and other motivated dogs and owners.
 Hollywood animal trainers call the use of positive reinforcement "affection training" and are using these techniques to accomplish behaviors impossible to obtain by force. Learn how to establish a clear, consistent communication with your pet, using rewards as motivation rather than punishment.  The principles can be applied to any area of dog work that you are interested in.  Obedience, Conformation, flyball, nose work etc.
Come and learn about the rules of reinforcement and how to use them in practical situations.
Learn how to effectively communicate to your pet, or your children or spouse, what behaviors are appreciated, and how to encourage those behaviors to increase and become more reliable.
Learn how to shape the behaviors that you are looking for.
Learn how to use reinforcement to get rid of behaviors you don't want.
Learn how to choose your reinforcers, and deliver them at the appropriate time.
How to "mark" the behavior so the pet or person knows what he/she is doing that very minute is what is earning the "prize".
No prerequisites required, bring a note pad and pen.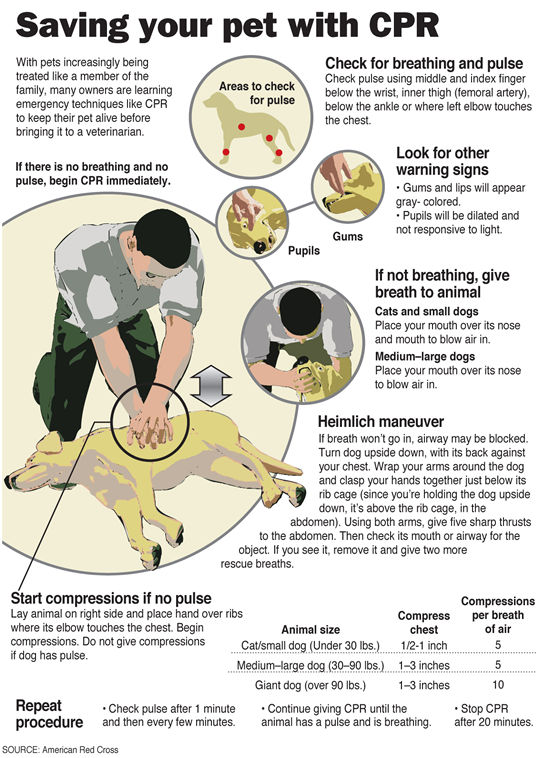 PREVIOUSLY SCHEDULED EDUCATION ACTIVITIES:
Maintaining Health with Dog Safe Practices and Awareness of Illness/Injury November 28, 2010 to February 13, 2011

Rally Obedience Workshop – Instructor Lorraine Perron June 25, 2011
Contact Chris Burke for further information regarding above activities at snowycreekshepherds@shaw.ca
  General Education
The executive and membership of the CDKC have long supported the enrichment that education offers.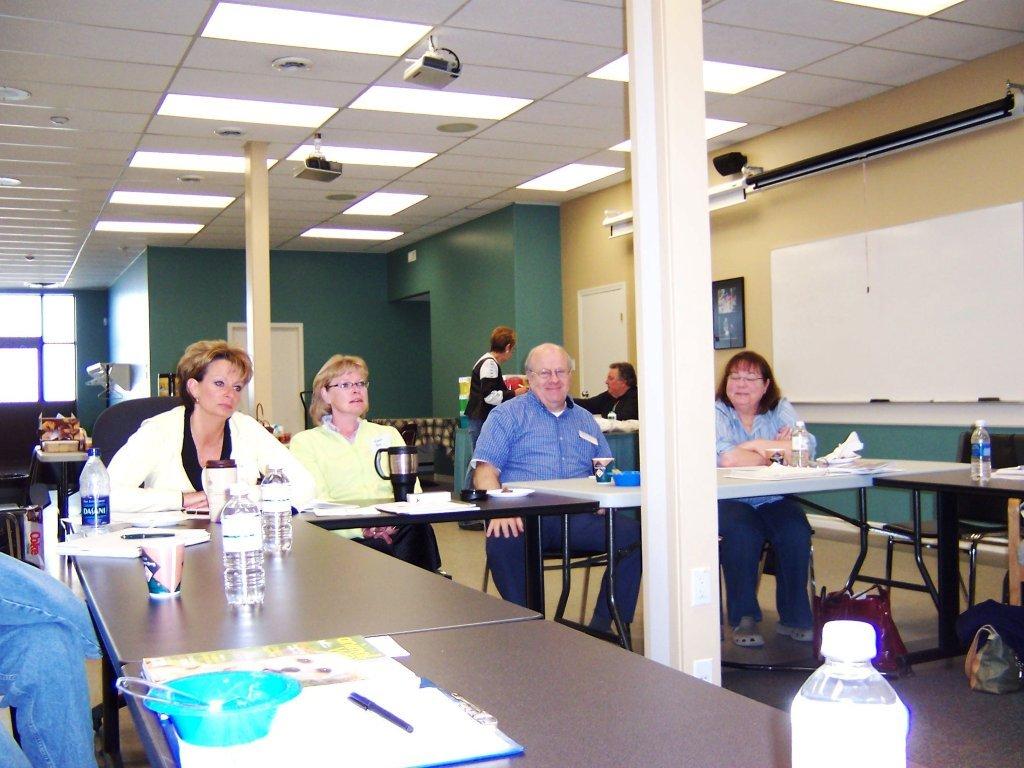 Objectives:
 To provide affordable, attainable educational experiences for the members of CDKC, affiliated clubs, and the public at large.
 To work co-operatively with other clubs in support of their educational opportunities, for the benefit of all.
Goals:
 To promote a better understanding of the dog and it's relationship with humans.
  To explore the many avenues leading to maximizing our animals health and well being.

  To encourage a multifaceted approach to enjoying and working with our dogs.
Future Educational Considerations:
 Therapeutic Massage

 Using Chilled and Frozen Semen successfully

 Treatment for sport related injuries

 Control of Canine Genetic Disease

 Changing Vaccine Protocols

 Canine Thyroid & Autoimmune Disease (Genetics, Nutrition, and Vaccine related issues)

 Complimentary & Alternative Medicine: The Immune System
  Please feel free to contact us if you have an interest in any of these topics, or have a subject you would like to have more information on.
 Chris Burke,
Education Chair