Brags from the weekend of August 5 2023
Our Club members did very well at the Alberta Kennel Club shows in Calgary this past weekend.   Congratulations to all!
Margie – Was the Biggest Winner with her boy Solar
Solar is new Grand Champion and took a Group 4th and a Group 2nd in a very large Working Group
Nancy
Juneau & Kima (our Mandy puppies from Wisconsin) – Juneau got 7 points, his sister Kima got 5 points at their first Canadian shows and their half sister Never got 3 BOS and 2 Selects – 12 points to her Grand.
Casey 
Marlon won best juvenile in sweepstakes and WD/BOW at the Alberta Boxer Club Specialty on Saturday, and WD on Monday. He came home with 6 points.
Alannah 
Miley got Best of Winners on Saturday at the GSP group AKC show then Reserve Winners at the Westwind Specialty for GSPs
Lisa
Bodhi had a great weekend.  He took select dog at the boxer specialty. And a 187.5 in obedience for his second leg
Ursula
Belamma got BPIB on Friday and Reserve WB
Tracey
NV got 2 Best Puppy in Breed. She may have anywhere from 3 to 5 points. I'm not sure.  Fierce got Best of Opposite Sunday, then Best of Breed on Monday. 6 points toward grand champion, I think.
Stacey
Kaelie took Best of Breed on Saturday in both the open show, and the Toy Dog Specialty.
Paisley earned two legs toward her Rally Intermediate title.
From  Alanna June 22 2023
Miley got her Barn Hunt Instinct title on the weekend and we got it on video (it's attached). She didn't have to do the tunnel at the beginning but chose to, and I can't cue her to do it as that's technically "training in the ring".  Anyways, all she had to do is sniff & indicate on the tube with the gerbil. There were 3 tubes: one empty, one with litter, and one with a gerbil in it.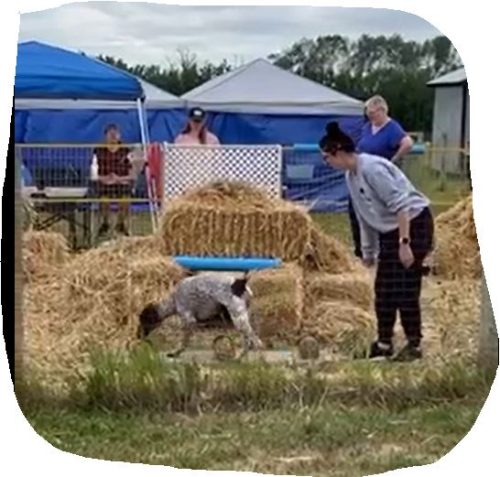 You can't touch the dog until the judge acknowledges you've completed the run, but you can talk to them & use hand signals. Also, a lot of people use Instinct runs to warm their novice dogs up.
We're entered in the Cowley Barn Hunt trial in September too if anyone wants to go for a drive & see what it's like.
Margie and Solar – wonderful ad and congratulations to you both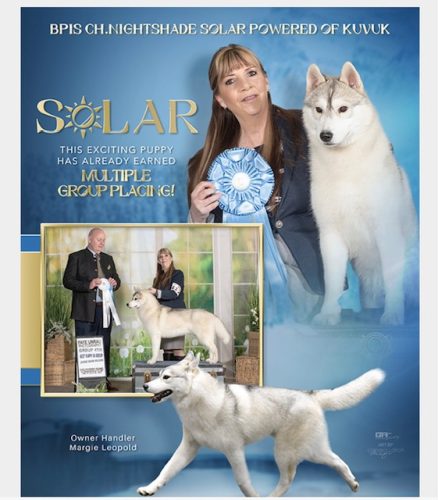 March 2023 Calgary, Congratulations Waylon and Alannah
Waylon finished his Novice Interiors & Containers on the weekend,
so we just need exteriors for his Novice Scent title.
Already starting his Open training in hopes of obtaining it in May.
Way to go Waylon and Alannah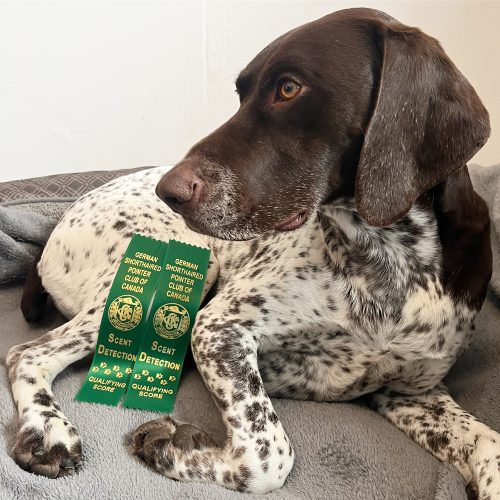 Debs 'Presto' earned his 3rd Novice B leg for his CD with a 199.5/200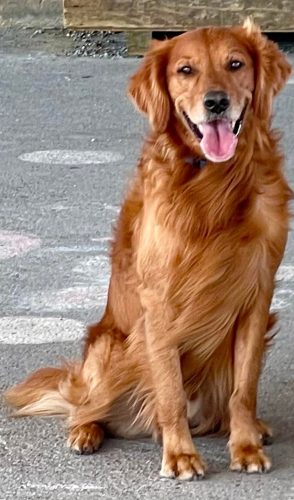 Julie achieved Rally Int.  with Nova at our Performance Trial and
-this spring Nova completed her Novice and Novice Masters Trick Dog titles
-this spring Oakley completed his Novice Masters, Intermediate  and Advanced Trick Dog titles
-he also received his Versatility Novice Title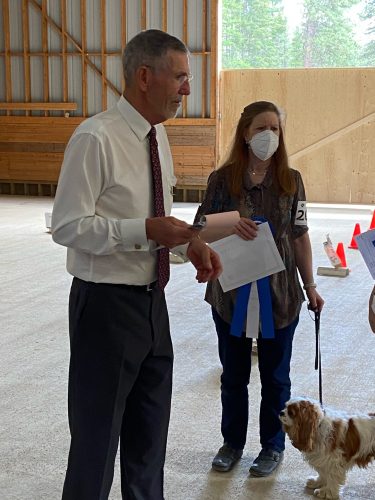 Margies Kuvuk's Kissed By Fire ( Azara) best baby puppy in show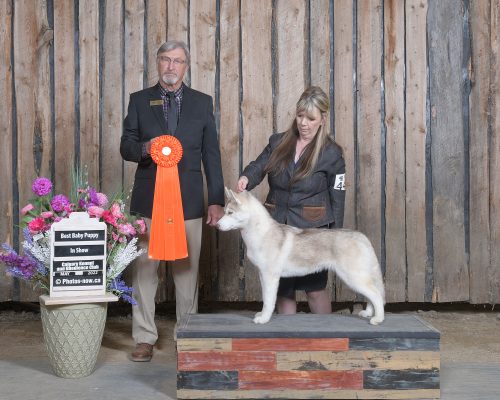 Margies Kuvuvk's Descended From Royalty ( Fallon ) Group 2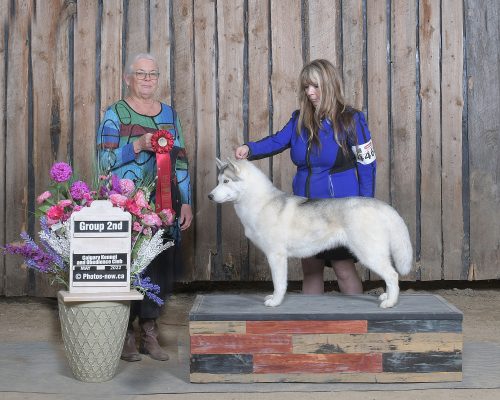 Sheri & Vixen Best of Breed and Winners Female  EKKOC Calgary Jan 2022
"Vixen" – was BOB one day and BOS other 2 days & Winners Female all 3 days.
Vixen also obtained her Rally Novice qualifying all 3 days – her first
title!
More Boasts and Brags: Up to July 17 2022
 Ewa             -attended her first show in Vernon with her girl Haida and got a first and second place ribbon.  She also thanked Sheri for all her help and support for her first time at dog shows.
Marion        –took Mika into the Rally ring for the first time at the Cranbrook Performance Trial
Tracey         –got a second leg in Rally Novice with Fierce at our Performance trial
Lynn            -achieved her Pre-CD with Drake at our Performance Trial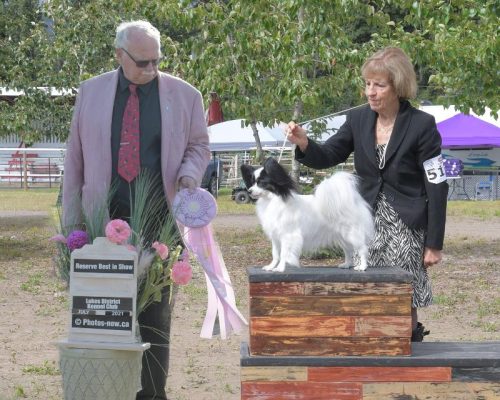 Nancy & Skyler Reserve Best In Show
"Skyler"    CKC results for year 2021 #5 Papillon Conformation, #2 Owner
Handler Papillons and # 9 Owner Handler – Toy Group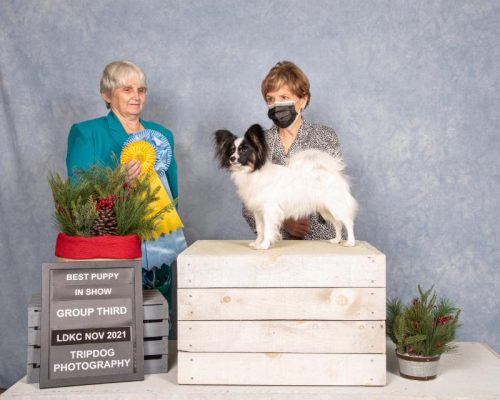 Nancy & Never Best Puppy in Show & GROUP 3 at LDKC 2021
"Never"   CKC results for year 2021- #1 Papillon Puppy Conformation, #13
Papillon Conformation & #9 Owner Handler – Toy Group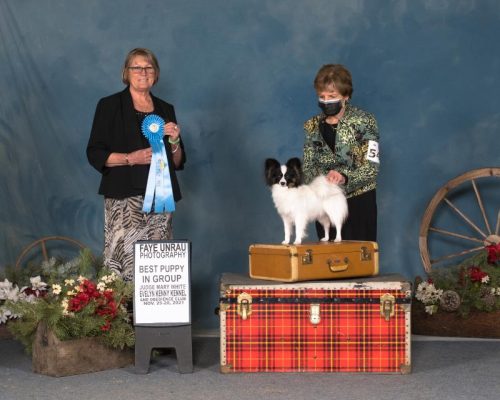 Nancy & Never Best Puppy in Group in Calgary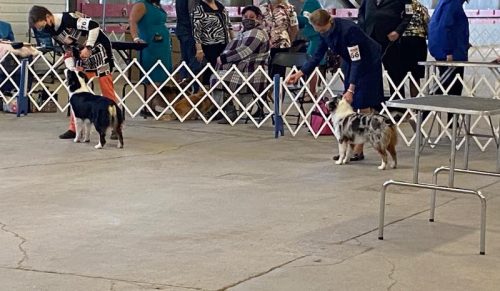 Sheri Morris girls Vixen & Aurora In Calgary
"Auroa" – puppy went to learn the ropes and was Reserve all 3 days in
conformation
Alberta Kennel Club 2021
Tracey & Fierce (Ramar's Dragon Princess) have a lot to brag about.    Fierce won 3 BOB's & a Group 4th as well as a cut in the group on her first day.    Fierce is now # 1   Schipperke in Canada!!  She now has 8 CH points and 59 Breed points….. all in one weekend.. WTG Tracey & Fierce.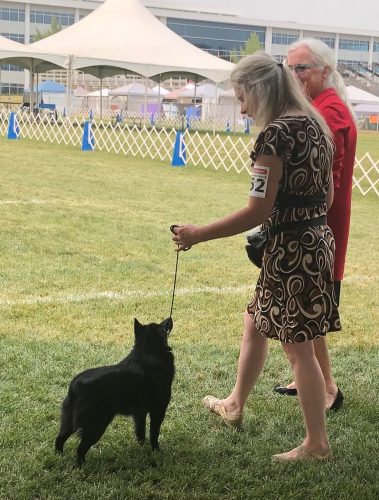 Margie & her Sibes also had a great winning weekend..
Reining In It To Win It – BOB  4 shows and BOS one show
Kuvuk's Fooled Us All – Finished her championship in style by going BOB Saturday
Kuvuk's Descended From Royalty – WB for 2 shows winning 4 points altogether and best puppy in group on Saturday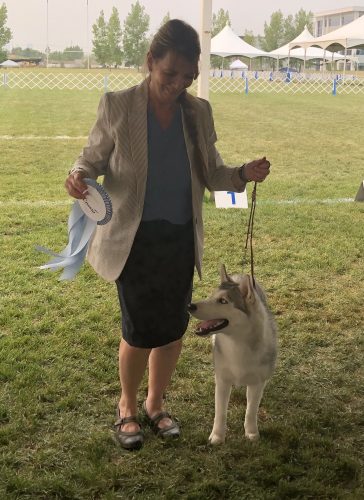 Lisa & Bodhi (Tybrushe's Awakening CGN, NTD)
Bodhi got 3 points this weekend, and now has 8 total, he took best of winners on Saturday. On Friday he got reserve for both shows.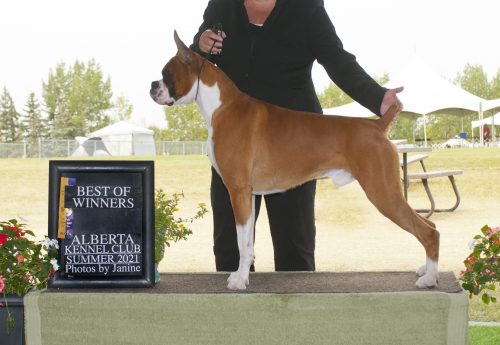 Kareen & Minnie (Thistlebitt Beachwood Minnie) was only able to make it for a couple trials and conformation shows but did very well.  I watched Kareen & Minnie but missed getting pics ☹ In Rally, didn't want to get too close as Minnie knows me.   This was Kareen's first stab at conformation and had great support from the Border exhibitors at the show.   As per Kareen:   "Minnie has earned her Rally Novice Title, and one leg towards the Intermediate level.  More practise needed for obedience as no success there (yet).  In my opinion, was great to get into the Conformation ring for the first time.  While we may not have received any points, it was a great learning experience for both Minnie and I"
The rings in Calgary were set up very far apart due to Covid restrictions and I got tired out running from ring to ring watching our members.  Enjoyed visiting with  Helen who was ring stewarding for her first time.   Great job Helen….you were stellar steward from what I hear.  Now you are all trained for our shows. 😊
Huge congratulations to all.     Looking forward to your successes  at our shows in a few weeks.
Lakes District Kennel Club – Burns Lake 2021
Nancy & Skyler ( now known as GCH Nanrich TopFlite Sky's The Limit)   This was Skyler's first time in the ring for 4 years  (she took time off for a litter with us and then one in Wisconsin)  She obtained 8 points at a year old and only needed 2 points to finish her Championship so entered in Burns Lake as we were going to be in the area at the time.    Not only did I finish her CH but also got her Grand with 8 BOB's, 5 Group 2nds, 3 Group 1sts and 2 Reserve Best In Shows and 3 Best Owner Handler Best in Shows garnering her # 1 Papillon in Canada #4 Toy Dog.  She obtained 361 breed points by the end of the 4 days she was pretty much "done" and so was I.   Rain, wind, hot, cold but no smoke or fires there.    No plans to continue showing her but was thrilled with the results.  Donated all the rosettes and prizes back to the Club to use for their next shows.  They need them more than we do….lol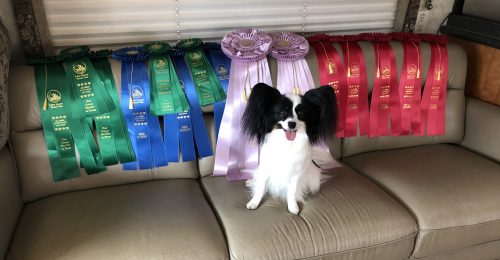 Brags submitted by their owners
Lisa Hunt submitted this brag about her Bodhi, at the Calgary Dog Show 2021
his registered name is Tybrushe's Awakening GGN, NTD
they  got winners in open male, and then best of winners on
Saturday
, and then got reserve the next day!
Kathy Reids Spirit got one leg on her Masters Rally in the summer or 2019.
Fierce (Ramar's Dragon Princess). BPIG (Best Puppy in Group) 
Saturday
 and 
Sunday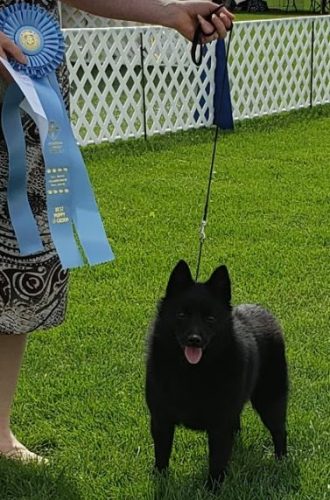 "Harvest" ( Kuvuk's Harvest Moon) won a group 2 on
Sunday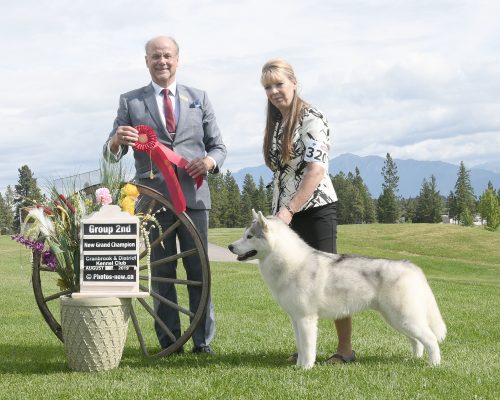 First time Junior Handlers – Welcome girls its so good to see the young ones out and enjoying the events
Ruby with her dog Lou and Rylie with her dog Cheers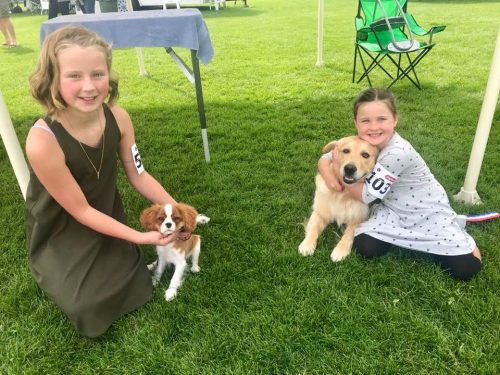 First time Junior Handlers – Welcome girls its so good to see the young ones out and enjoying the events
Ruby with her dog Lou and Rylie with her dog Cheers
Georgia has
been competing in NDAC Agility trials with her Collie, Commanche. They are attended there third trial in Alberta Sept 7-8 weekend.  So far, in two trials, he's won his first title and 20 ribbons total. We will be doing CKC & AAC Agility trials next year.